Digi ConnectCore® 6UL SBC Pro
---
Please contact us if you are interested in this product.
---
Powerful, secure, pre-certified connected Single Board Computer in standard form factor with complete design flexibility.
Powerful and flexible off-the-shelf solution in Pico-ITX form factor
Production-ready with minimal hardware design effort
Rugged design with industrial operating temperature range
Pre-certified dual-band 802.11ac Wi-Fi connectivity
Bluetooth 4.2, with Bluetooth Low Energy support
Out-of-box support for cellular connectivity
On-board NFC Forum Type 2 compliant tag
Dual 10/100 Mbit Ethernet networking
Integrated display and camera capabilities
Rich interface and peripheral support
Complete Yocto Project Linux BSP with source code
Digi TrustFence® device security framework
The Digi ConnectCore 6UL SBC Pro delivers the ultimate connected off-the-shelf NXP i.MX6UL single board computer with complete capabilities and unparalleled design flexibility.
Its unique pre-certified wireless connectivity options offer 802.11a/b/g/n/ac Wi-Fi and Bluetooth 4.2, including Bluetooth Low Energy. Out-of-box cellular integration options using the pre-certified Digi XBee® Cellular modem or third party PCI Express Mini Card modem allows you to integrate cellular connectivity without the usual cost and complexity.
Digi's complete Linux support includes the built-in Digi TrustFence® device security framework with support for secure boot, encrypted filesystems, protected ports, and more.

i.MX 6UltraLite
The most power efficient, lowest cost and smallest industrial i.MX6 family processor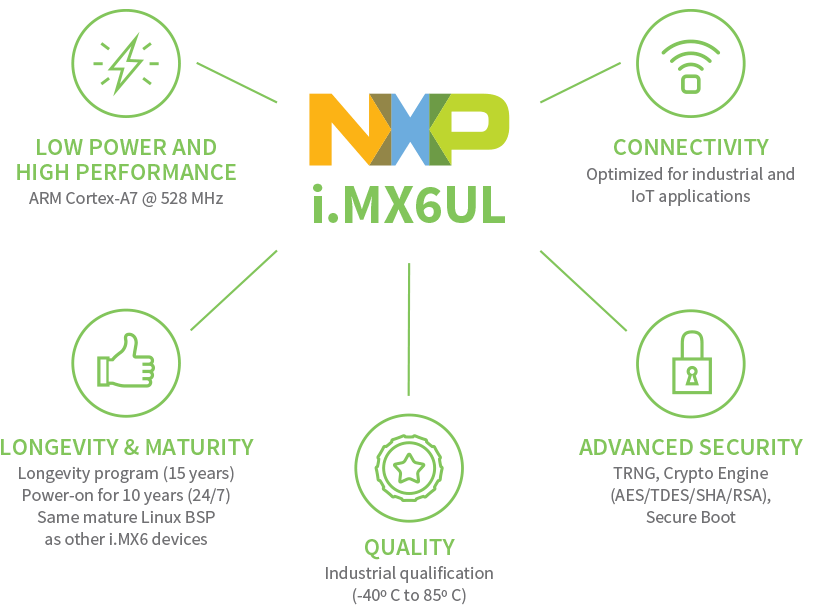 Built on the NXP i.MX6UL application processor, the ConnectCore 6UL is the intelligent communication engine for today's secure connected devices in industrial applications. It seamlessly integrates dual-Ethernet and pre-certified dual-band Wi-Fi (802.11a/b/g/n/ac) with Bluetooth 4.2 connectivity.
---
We Also Recommend